Tuesday, August 31st, 2004
Today is the first day of school, where are the backpacks?
Yesterday sucked. It was productive. But it sucked.
I finished Olivia's backpack. I am still singing beautiful Yvette's praises for sewing a liner for me. I made the button holes yesterday (for the first time EVER! I am very proud of myself), and knit and felted the i cord to hold it all together. Then I pieced the straps together and sewed on the button. It looks cute, and the liner adds quite a sense of legitimacy to the whole thing. I will include a picture, hopefully tomorrow. (I'm a little concerned about it having that "homemade" look, as opposed to the "handmade" look. Good thing she's only 5.)
Poor Abigail is using last year's backpack today. Fortunately, she doesn't seem to mind. The sweet thing believes that I am going to finish hers as soon as possible, and that's enough to satisfy her.
I received the meathead kits (see button in side bar) on Monday night, and look forward to knitting them. It looks like I have three hats worth of yarn. She included a packet of herbal tea in each kit, isn't that cute? What a fun project.
And finally, I'm leaving you with something fun. I'm hoping this isn't infringing on any copyright laws. I don't think so, as no one is making, or losing any money by my using it. If anything, it is free advertising. So……. isn't this hilarious?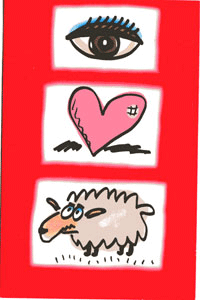 this is a card I bought for Nate last Valentine's Day. Check out what it says on the inside…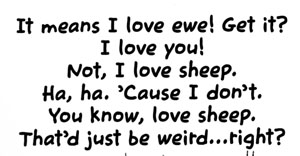 This kills me. I thought it was SO funny, and then I saw the back….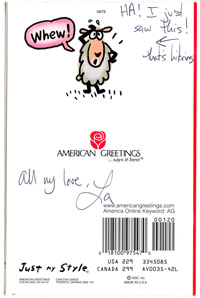 I died laughing. I didn't even see the back 'til I was writing in it and ran out of room.