Monday, February 28th, 2005
Cable-Eight with me!
But before we get into that, I have some Valentine's Day gifty business to attend to.
I have packaged, stamped, sealed and addressed most all of the Valentine's for which I have received addresses. They will most likely be sent out today. To those of you who are abroad, you are addressed, stuffed, and waiting to be hauled off the the post office, but postage has not yet been affixed. Here is a list of addresses I still need, and while there is no deadline for you to email me your address, I will assume after this post that if you don't respond, you aren't interested. And that is completely fine. No hard feelings. I'm just saying, officially, that I'm not going to beg.

.
Janey
Sandra
Shannon
Anne-Caroline
Sylver
Jenika
Monica
the other Karen
The rest of you are going to receive your gifties soon. And Carrie, Mary Sunshine's doll's twin is heading to you! (Once I finish her, so you'll have to wait a little longer than everyone else. Sorry). Congratulations!
Now, the knitalong.
This is what we are knitting…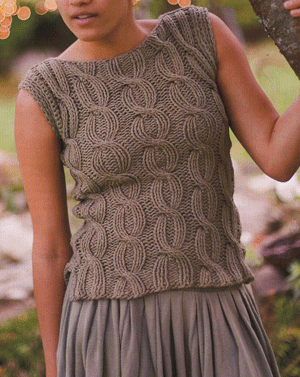 It's the Cable-Eight top from the Spring 2005 Interweave Knits magazine. UPDATE- there's an errata!!
This is the nifty button Nate has made for us…

Please copy it to your own server.
To make it easy on me, please comment to this entry, or send me an email to join the knit-along. I have some scattered comments and emails over the past couple of weeks expressing interest, and I'm sure I'll miss someone. Here's who I've got so far, but I'll wait for a confirmation before putting you in the sidebar-
Megan
Stella
Katie?
Let me know.
I finally have my yarn.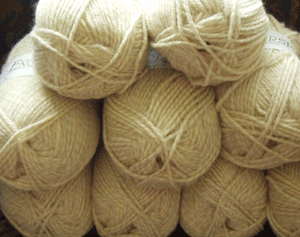 It's Plymouth Encore Colorspun, in a really pretty creamy-tan color. I know it will have a completely different look and feel than the cotton the pattern calls for, but this was about half the cost of most everything else I could find, and I was able to use store credit, so here we are. I like the color a lot. If I like the finished sweater enough, perhaps I'll save up for that GGH Aspen and make it again. Maybe.
So tell me if you want to join, tell me what you're making it with…. and remember, Fridays are knit-along days around here. If you'd like me to link you or show your progress, I'm happy to do it. Just email me before Friday and let me know.
Fabulous! I guess we're all set! And while you're at it, be sure to tell Nate what a neat button he made. He's an artist, you know. They like that.