Tuesday, May 31st, 2005
Mom? Are you there? Can you HEAR me?
Ok fine. I'm being mean. But I decided to both amuse myself and possibly increase my chances of getting a response from my DEAR mother, who refuses to TELL ME HER FREAKING SHOE MEASUREMENTS!!!! if I publicly harass her on my blog.
I know you read me, mom. Spill it. Actually, since Leigh is most likely reading too, I'll direct this question to him. Leigh, will you PLEASE make my mom send me her shoe measurements so I can finish felting THESE???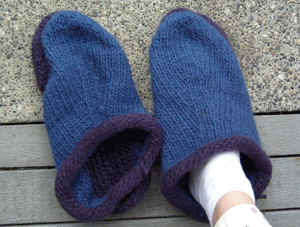 These are half felted clogs. Because my wait for information has been extreme, they have completely dried. We wait, and we wait, and we wait…
Anita is setting up a stitch marker swap! You can either make or buy them, and choose how many sets you want to send out, which will also be the number of sets you will receive. Sound fun? Go sign up!