Thursday, June 30th, 2005
Cable-Eighting?
In my haste to get to Black Sheep, I missed our knitalong update last week. What've we got? I know that Meg is working on hers, and she's using the official pattern yarn that is being sold cheap here. It's pretty.
Also, our very own Drew the Crochet Dude has finished his second Cable-Eight. He managed to get paid for knitting it. He and I need to talk. And we're ignoring the fact that he has now knit two, whereas I, the hostess of this particular knitalong, haven't even finished one! Way to show me up, buddy.
Anyone else?
Having further reflected on the cuteness of Corine's Cable-Eight, I'm thinking about reverting back to the original pattern and leaving mine sleeveless to wear over other shirts. Since I'm fully immersed in my Shoalwater Shawl, I have plenty of time to kick it around before deciding.
Speaking of deciding, I need your help. I'm going away this weekend, again, and plan to finish the shawl while I'm away. I need to decide what yarn to use on the picot edging.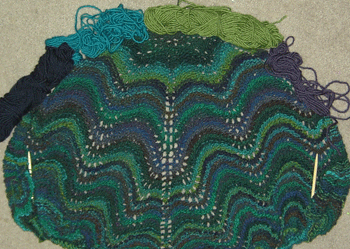 Do I use the Noro and let the edging change colors along the way, OR do I use some Lamb's Pride? Here are my color options-
Bulldog Blue?

Jaded Dreams?

Kiwi?

or Plum?

What do you think? I need to know.
I am completely pleased that I could turn to my stash at 11o'clock at night and come up with four colors of Lamb's Pride that look great next to the Noro Kureyon.