Monday, October 31st, 2005
I have a lot for you today
First of all, Happy Halloween!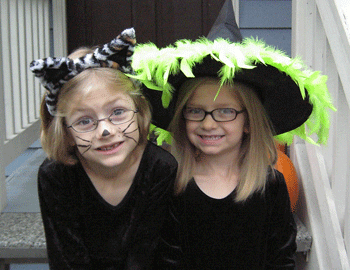 It's a witch and her cat! And it wasn't until just now that I realized I painted Abby's kitty nose upside down. Dangit.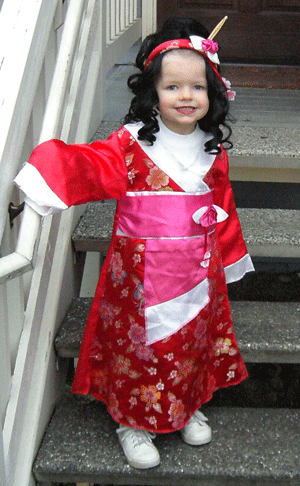 Next, a friend of mine's husband has cancer, and has been undergoing a lot of horrible treatments. She called me on Friday and asked if I'd make him a hat, because he's cold all the time, and she's had a hard time finding a comfortable hat in the stores. Now I feel like an idiot for not thinking of it myself.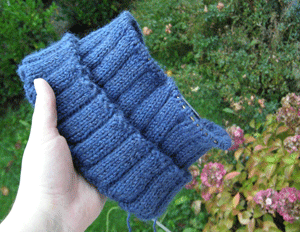 I am also going to make him some fingerless mitts.
The kicker with this hat (which looks much better stretched out a little bit) is that it's, well, let me back up. Nate and I were sitting on the couch while I was trying to decide what kind of a hat to make. My friend wants it to have a lot of give. Her problem with the store bought hats is that they are uncomfortably tight on her husband. Ribbing seemed like a natural answer, and I was going to go with the 3×3 ribbing I had been knitting on the VCC. But then I though that maybe a 5×1 rib would have a classier look, and Nate suggested a 4×2. So I swatched the 4×2. It looked good. I've started the hat, and and after hours of knitting, have yet to get into a groove with the 4×2 ribbing. It is 1 stitch off of the 3×3 ribbing, in each direction, that I have been knitting on the VCC for weeks. I keep trying to switch back to a purl stitch after 3 knits. It's driving me crazy. And you know what will happen, I'll get into the groove right about the time I finish the hat, then I'll go back to the VCC and be screwed up the other way.
Finally, This is what I've been looking at since about 6 o'clock Saturday night.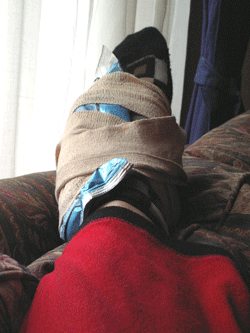 Elevated and iced, baby. That's right. I sprained my ankle. Popping sound and everything. Writhing, screaming pain.
So I didn't get to go to the girls' Halloween party Saturday night to hear the "oohs" and "ahhhs" over Veronica's completely adorable costume, and I can't go to the school and help out with the Halloween party today, like I'd signed up to do. I can't go trick-or-treating tonight. I can't take Advil because I'm pregnant. I can't exercise like I want to. I've found that sitting on the couch with a gimpy leg encourages my consumption of chocolate, which makes my delicate tummy unhappy, and makes my inability to exercise all the more tragic.
My friend, after asking me to knit her husband a hat on Friday, heard from someone else that I've been really sick. She called back on Saturday to withdraw her request and I told her that because I'm sick, knitting is all I can do anyway. Well, now that I'm a GIMP, I'll be knitting hats for EVERYBODY.
Which reminds me, come to think of it……
I am totally digging my Esther Williams hat. (See sidebar). It's one of my favorites, I wear it frequently, and when I do, I always get compliments. (And nobody calls it a vest)! So, I'm thinking that even though it will drive me insane trying to write out those wretched decreases, I might try to write out the pattern. Mainly because I want a pink one, and I already have the yarn.