Wednesday, January 4th, 2006
They want to see the 'vogs!
I've had multiple requests now to show my new shoes. (Fluevogs, if you've been out of the loop). Well, thank you. I just made an idiot of myself on my front porch contorting into strange positions trying to get a decent shot of them. Being six months pregnant made it all the more ridiculous (and difficult). All for you.

.
De blue ones…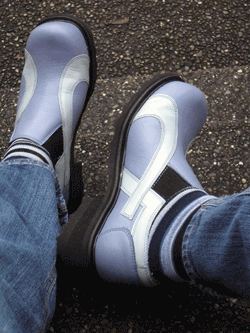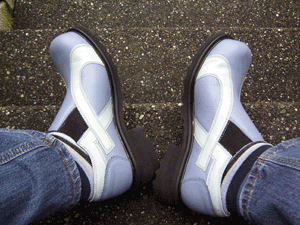 De red ones…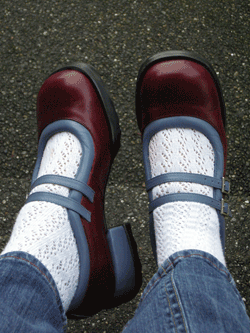 And de pink ones…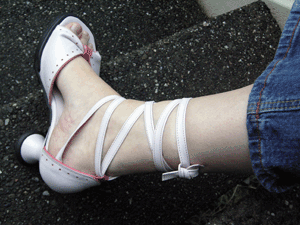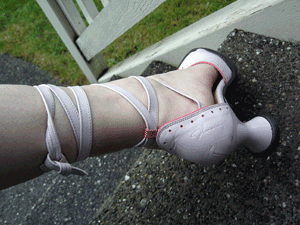 They really are pink, despite how washed out the photo is. I've figured out why I haven't managed to get an official VCC or an Interlocking Balloons scarf picture in the sidebar yet. THIS DARK, WINTER LIGHT MAKES FOR CRAP PHOTOS, AND I'M TIRED OF FIGHTING IT!!!!
Back to the shoes. (There's also a pair of white leather knee high Cece boots in the post somewhere in Canada that will eventually end up here. Nate spent a very long time hunting them down as they're on clearance, and according to most every employee of Fluevog in our country, completely sold out in my size. He was not to be dissuaded however, because these particular boots were the other reason he took me to the shop. He likes them).
I've never owned strappy heals before. I don't even remember the last time I owned "heels". When Nate found these on the website and said he wanted me to try them on, I looked at him like he was insane. However, they ended up being really stable shoes. I don't feel wobbly. They have substance to them.
(I am SO not a fan of flimsy, "are you insane for even trying to walk in those" shoes. I think that while they can be cute, they're stupid. Shoes are for walking, and if the occasion calls for it, you should also be able to do a little jog in them to avoid things like, cars, unexpected puddles, dogs, people that look like they may want to mess you up, etc. You're not going to find me in an otherwise avoidable pickle, just because I was wearing stupid shoes).
Right. No one ever accuses me of not having an opinion.
V and I went to the yarn store yesterday, bought the skein of pink Lamb's Pride for my clogs, and picked up a ball of Fixation to try my hand at the Panta. I saw that Angela made a super cute couple of Pantas with Fixation, so I knew the yarn would work out. Once I'm more familiar with the pattern, I may try to modify it such that I can use some of the gorgeous, bulkier yarns that my LYS has in right now.