Wednesday, June 28th, 2006
No way!
We were visiting with friends in our living room last night when I felt something watching me. So I turned towards the window and saw this.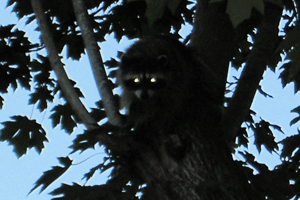 Well, his eyes weren't glowing from a camera flash when I first saw him, but I did turn to see a face staring at me through the glass wall in our living room. I gasped as it took me by surprise, and the kids were delighted. So onto the upper deck we all went, about eye level, and 6 or so feet away from a raccoon.
Upon being discovered, it started climbing down the tree.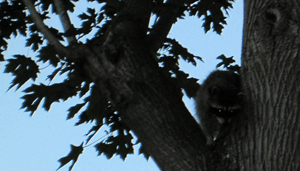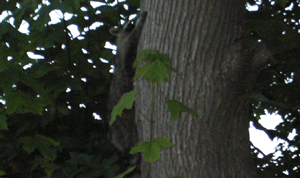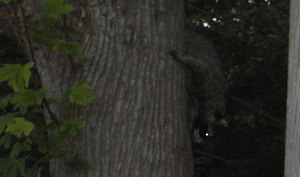 And I followed him down (figuratively) with my camera until I gasped again, when through my camera, I saw this.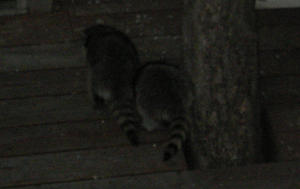 There were four for sure, possibly five smallish raccoons on my lower deck, and the trees growing out of it. They scurried down the smaller tree, and climbed around on the railings before deciding to go back up the bigger trunk of the maple.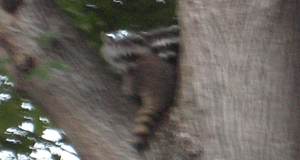 I know that picture is blurry, but it was so cute seeing the two of them cheek to cheek, staring in at us.
I would never have guessed we had 'coons. They were small, and all exactly the same size, so I'm guessing it was an adolescent litter or something. Not being a raccoon expert, it's just a guess. I hope they're just passing through. I have a goldfish pond back there, and I don't want them getting any ideas.
We went yarn shopping on Tuesday and didn't come up with much. Except, some of the yarn at the second store we hit that I had admired this past winter was on sale. So I bought it.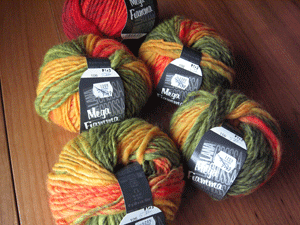 Along with something that may or may not work for my friend's chemo cap…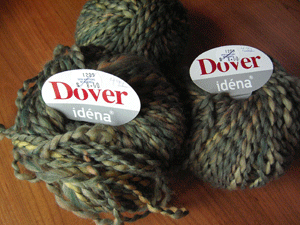 …which was also on sale, and either way, it was a good buy.
Thank you for the yarn suggestions. I'm going to go back through the comments and write them down for when I go into Seattle, which it looks like I'm going to need to do, to find yarn.
As for the stockings… I couldn't find anything I liked, with the possible exception of Silky Tweed. It comes in the color diversity I'm looking for, but silk Christmas stockings????
I don't know.
I have some in the stash already, I could start working on a mockup to see how it goes. But I'm going to continue looking.
Yays! to those of you who are having your family knit their stockings! I think it's great! If this actually pans out in my family, I'm going to take a picture of each of them as they're knitting it to keep in the stocking year after year, so as they grow up, they (in truth, I) can enjoy looking back and seeing how little they were when they made it. Fun, no?