Wednesday, January 31st, 2007
I know, I know
I've been playing with fiber instead of posting.
Let's see, Thursday was a class on Spinning Novelty Yarns. It was neat to spin so much with mohair. After class, Colleen taught me how to spin "tailspin mohair", which is holding a handful of teased mohair locks and turning it into yarn. It's beautiful.
What I really want to do is figure out what to do with this novelty yarn that I like, so I can justify and focus spinning it. I don't knit with novelty yarn. I don't "trim things out" with it, I certainly don't knit entire projects with it… But I'm trying to come up with something that I'd like to make with it. Right now, I'm thinking about decorative pillows and hats. Possibly a scarf, if the stitch pattern were right. It needs to be knit in a way that preserves the beauty of the yarn, instead of hiding it in the stitches.
I'm already forgetting a lot about Madrona.
Friday was a half day for me. I took Fiona Ellis's hand embellishments class. It wasn't very structured, and although it was fun to chit chat with her, I think I could have learned a lot more if the class were taught differently. However, what I learned is going to be very helpful. Basically, the whipped chain stitch.
Fiona said it is very helpful for outlining curvy designs in knitting to soften the edges so you don't get the jagged, stair-step effect.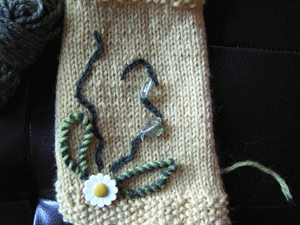 This is my practice swatch from class where I worked on curvy lines. I have designed a lot of curvy colorwork for my knits that didn't end up in a final project because they looked bad on the curves. I'm excited about this one. Plus, she showed us a ton of swatches she had knit for inspiration, and I took pictures of most of them.
Saturday was my silk spinning class which gave me the confidence to try what I'm doing now.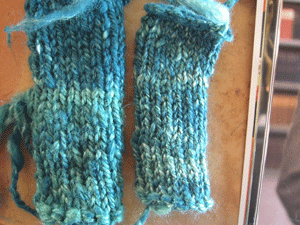 which is blending together some silk and wool, spinning it, and swatching for a scarf.
That's all I can post right now. Veronica is throwing up today, can't even keep a sip of water down, and I have a brief amount of time before the girls get home to get a handle on things.