Monday, June 28th, 2010
Is this room in my house?
And I'm not even kidding. The cabinet is down, one wall is done, we hung the mirror, pushed the dresser back and…..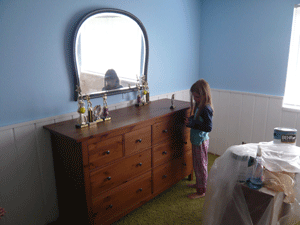 it's so pretty! Of course, there's a lot to do still. Those wretched boards on the walls are taking 3 coats to look decent. And we're going to need to put on floorboards at some point. But I'm so pleased with how it's coming along. The blinds in both rooms are changed. I put an ad on Craigslist and that big cabinet, plus two matching ones that have been taking up room in our garage for years were posted as "Free" and got picked up on Saturday.
Woohoo! I can't express how happy I am to have those gone. And we didn't have to dump them!
Those softball and volleyball trophies that are sitting on the dresser in the photo have been photographed (per Abby's suggestion, but I still credit Susan for the original idea that now floats around our house) so we can dispose of them.
I'm going to make the girls go through and clean out their dresser. We're getting rid of as much "stuff" as possible so it'll be easier for them to keep their room clean.
The window wall won't take too much to finish. I think half of it needs the third coat of paint is all. And there's a little touch up to do in the windowsill. Then we'll focus on the wall the bunkbeds sit against. It's in various stages of being painted. Clark wanted to paint real bad, so I made him strip down to his Pullup and let him go nuts. There was paint all over that dropcloth, but I think the carpet is safe. Veronica gets to paint behind the bookshelf on the fourth wall that is mostly closet. So, I'd say we're well over half way done.
Then we get to decorate!
And then we can try to figure out what in the world we're going to do with Veronica's room.
And then we're going on vacation.