Archive for June, 2011
Tuesday, June 21st, 2011
I love his grumpy face
Monday, June 13th, 2011
Summer's approaching…
…as defined by the school's break schedule more than the weather, for sure.
I spent the weekend up at Warm Beach with Liv and her 6th grade class. We had a very pleasant overnighter and I got a sunburn. In the 2 hours or so of actual sun that we had. Go figure.
The campfire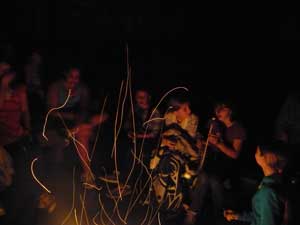 The climbing wall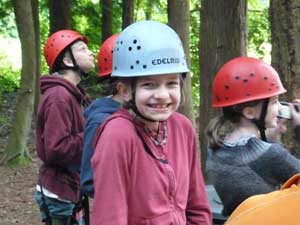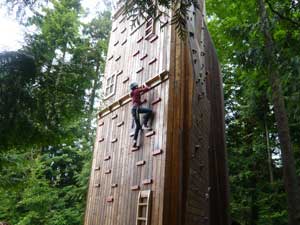 Down time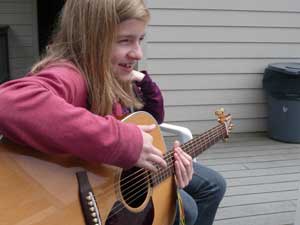 Liv's been a busy bee. Here she is at the track meet finals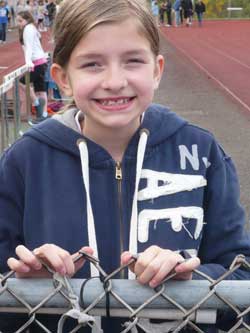 Playing Demetrius in Midsummer Night's Dream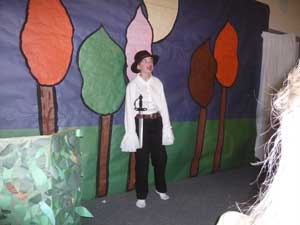 And at the final orchestra concert of the year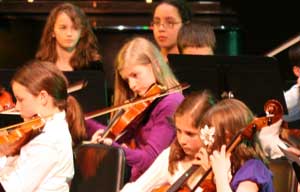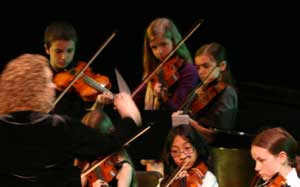 Here's Abby looking stunning, if not a smidge blurry at her band concert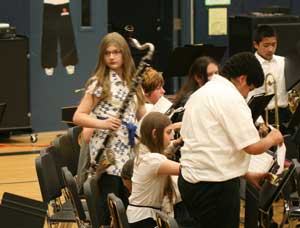 Veronica had a birthday. She's 10 now, tho' still a wee little bug.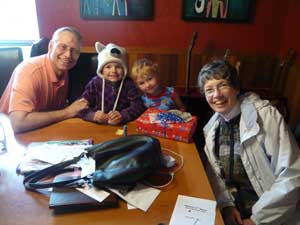 Clark graduated from preschool.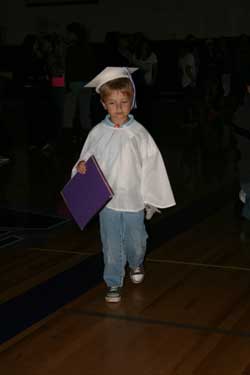 (And yes, they actually played Pomp and Circumstance. Nate and I couldn't stop laughing, which was probably not particularly polite). His tassel is hanging on the rearview mirror of my car.
Nate won the Fluevog ad contest! THANK YOU to all who voted for him!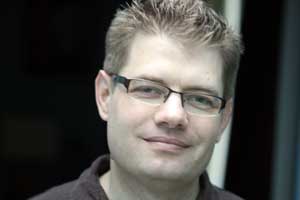 Max is driving me completely insane. He eats almost nothing but formula, and of the foods he used to eat that he's still willing to put in his mouth, he'll just chew on for awhile before spitting it out on the floor in gooey little pieces.
And he broke my 100 watt amp. He twisted the input jack off and I had to take it all apart to fix it.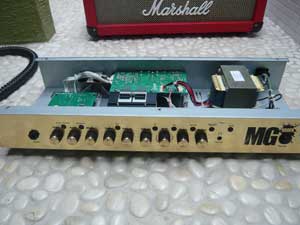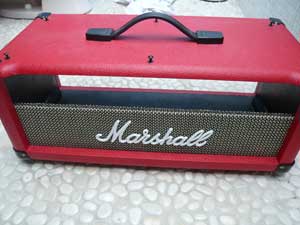 It's a low end Marshall, so it didn't really want to be unscrewed, but more than that, it didn't want to be screwed back together again. What a nightmare.
So that's about it I guess. I'm still working on music in whatever spare time I can find. I'm working on lead guitar again, and am getting pretty good at soloing and moving through scales and modes, cliches, 6ths and 3rds. I'm very proud of myself.
I've also been working out for 2 1/2 months, 6 days a week and I'm eating really, really well. Much smaller portions, no sugar or cheese, lots of raw vegetables, whole grains, lean protein, 3+quarts of water a day….
I can do pushups! And I hate them! But I started out barely being able to do 1 at the beginning of April, and now I do 15, the rest of my floor exercises, then another 10-15. Yeah, I'm a rockstar. I do the strengthening stuff 3 days a week and 45 minutes of elliptical the other 3 days. My resting heartrate is down to 53 and I feel great, have energy, skin looks amazing blah blah blah. Now if only my PANTS WOULD FIT BETTER!!!!!
But I'm not bitter.
Oh yeah, I'm totally bitter.
Thursday, June 2nd, 2011
Nate needs your vote!
We are very excited that Nate has made the top 4 in Fluevog's worldwide ad competition!!!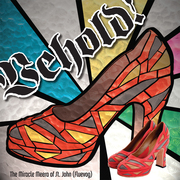 Congratulations, Nate!
Now it's up to internet voters to decide the winner, and he's neck and neck with the competition. My internet sleuth friend, Carol discovered that the person that knocked him out of 1st place has posted to a large forum for votes.
This is a 5 day competition and each person/IP address can vote once per day. If you'd like to help out, please vote for him everyday! From home and work! Tell your friends (if they won't be annoyed)!
Thanks!