Wednesday, August 31st, 2011
Makeup and stuff
The kids started school today. Clark will be going off to Kinder in a half hour or so. He's at a friend's house this morning. Liv is at the Junior High. Veronica is in 5th grade (that's so weird), and Abby is home because the 8th and 9th graders don't start 'til tomorrow so the "Sevies" can have a day to themselves to get the lay of the land.
This morning, I showed Abby how to curl her hair (she has layers now) and then we went to the mall to look at eyeliner and mascara as she's starting to care about things like that. So off to the Clinique counter at Macy's we went. The eye pencil I use is this one, and I love it 'cause it's soft and smooth and easy to put on. That seemed like a good characteristic for Abby's first eyeliner.
My old one is True Khaki, but some of the other colors look neat. She came away with Roast Coffee, which is a much darker, richer brown than the website shows and it makes her blue eyes really stand out. Hard to see in a photo, but here you go.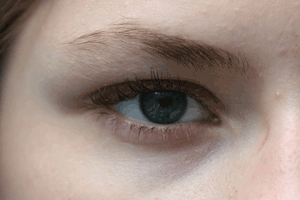 Abby's lashes are so thick and black, that the mascara doesn't really make much difference, other than looking more "finished" with the eyeliner. The lady at Macy's said to only put mascara on the tips of her lashes, to definitely NOT go all the way down to her eyelid. Wouldn't that be nice?!
I bought Violet eyeliner, however I'd love to go back and try some others. Like Navy. We also went to the Body Shop to get her some of my favorite makeup remover.
Abby looked sooooo pretty with a little eyeliner, mascara and a light lip gloss. Not "made up" at all. It was really fun doing the girl thing at the mall with her.