Monday, May 14th, 2007
A really great idea
My internet-shy-friend-that-used-to-be-neighbor had the most excellent idea last week. She suggested hosting a knitalong for Mary, and I'm going to do it. Here's the deal.
I want as many pairs of hand knit gloves, fingerless gloves, and fingerless mitts as possible. I don't think she'll get much use out of full mittens so I'd prefer not to have those. She wears gloves when she's outside, and the fingerless mitts (Fetching from Knitty) when she's inside. She works in an office, so she's mostly inside.
To recap, Mary has an incurable medical condition where her body thinks it's freezing to death at any temperature under 72 degrees, so all of her blood is routed to her vital organs, and her extremities will eventually die if she doesn't keep them warm. She needs to wear gloves all the time, every day, about 10 months out of the year in this climate. Maybe even more. She's wearing the black, Cashmerino mitts I made her in October every day, and relies on the $2, stretchy variety of gloves found at grocery stores everywhere when she's outside.
I want her to have a wide variety of beautiful handwear. She's never going to get better. This is never going to go away. She's in her 30′s. It sucks.
We are knitters! We can help! It's what we do!
My blog has a wonderful group of readers, but we're small, so I'm asking people to talk. Spread the word. Get it out there. I would LOVE to have a lot of participation, and to prove it, I'm offering prizes. From the gloves/mitts that I receive, I will randomly select winners. I don't know quite what I'm thinking yet, or how far it will go. It'll probably depend on the level of participation, and I'll happily take suggestions, but so you know, I'm thinking Koigu.
Yes, it's that important to me.
I'd like to give the gloves to her before the end of the school year, so the deadline is June 15th. Here's a link to today's post.
Email me to sign up, comment to this post, whatever you'd like to do.
I've started my fingerless gloves for Mary.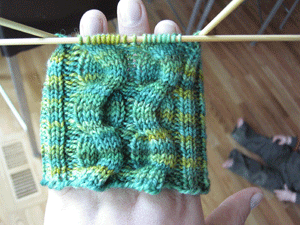 I'm going to separate the cables into the four fingers before binding them off. Right now, I'm looking to start the thumb gussset. I'm winging it and it's been awhile since I made gloves, so I need to consult a legitimate pattern for guidance. I ended up going with the bigger needles, and as predicted, Hayden is laughing at me. In fact, I'll quote her exact words-
"HAHAHAHAHAHAHAHAHA
HAHAHAHAHAHAHAHAHA
HAHAHAHAHAHAHAHAHA
(breathes)
HAHAHAHAHAHAHAHAHA"
Thanks for that.
UPDATE- I forgot one thing. Her left pinky finger is a lot shorter than the right one. She asked me to make even the fingerless glove shorter on that pinky. She has small hands anyway.
If we want to have pattern conversations and suggestions in the comments, that'd be great.
Also, since I've already updated this post about 5 times since posting it, it'll probably continue to change, so check back for the latest info.
Feel free to comment to any post with progress or ideas throughout the next month. I'll be doing check-ins on Fridays. If you send me links or pictures, I'll post them then.
We'll have a name and a button soon. I'm thinking "Mitts for Mary" or something like it.
Mary doesn't know I'm doing more than knitting her a pair of fingerless gloves.
Her measurements are-
Circumference at widest part of palm – with fingers together – 19 1/2 cm both L and R
Base of palm to start of fingers – 10 cm both L and R
Middle finger length – 7 cm L, 7 1/2 cm R
Ring finger length – 6 3/4 cm L, 6 5/8 cm R
Pinky length – 4 1/2 cm L, 5 1/2 cm R (notice they're different)
Between the base of the thumb and the start of the index finger – 5 cm
PATTERN IDEAS SO FAR-
Chevron mitts This one's being made already, but it's SO NEAT!
Fetching This is what I made her in October, but I'm sure they're thrashed, and I know Mary likes them.
Gorgeous Smocked Gauntlets (I want these myself)!
You can do what I'm doing and make up your own, based on the general construction of another pattern. I'm using the eyelet gloves in Gathering of Lace.
There's also a great basic and adaptable glove making article in an older issue of Interweave Knits. I don't have time to hunt down which issue right now. Maybe later.