But before we get into that, I have a couple items of business to take care of. First of all, the quote from Friday's post is at the end of the Cave Troll scene in Fellowship of the Ring. Second, I have not been receiving all of my email at the address attached to my site. If you want to contact me, or have contacted me and haven't received a response when one was warranted, then please try me again at poormissfinchATmacDOTcom. I never ignore anyone on purpose.
Excellent. So on to my crazy yesterday.
I was reading Fluffa! yesterday morning, and had a sick feeling in my stomach when I read that the final day for the Bucket Hat knitalong contest was today. I had signed up to participate, and had no hat. Ignoring the fact that I have school backpacks to complete before Wednesday, I quickly scanned the stash and grabbed some old cotton yarn that my friend Gayle gave me recently, I believe from her late Grandmother's collection. The following is an account of my mad dash attempt at completing a Bottom's Up bucket hat for the knit along.
9:20 am- Read Becky's site and realized I was in for it.
9:23-10:00 am- contemplated whether or not I really wanted to do what I was about to do.
10:00 am- raided the stash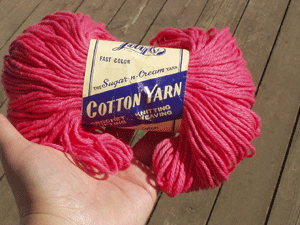 and wound first skein of selected yarn into a ball. (Check out that label! I wonder how old it is?)
10:17 am- cast on a size small for Veronica. Smaller heads make for quicker knitting.
11:00 am- got Veronica out of bed.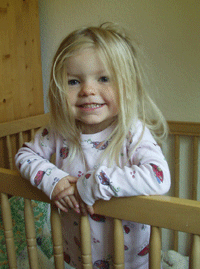 finished brim to hat.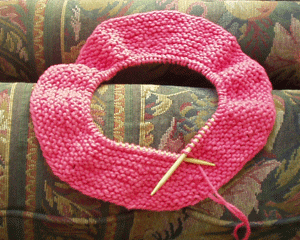 realized that in my haste, I had neglected to double the yarn for the brim. Oh well, no turning back now.
11:30 am- really finished brim, as I added another set of decrease rows.
11:32 am- bathroom break, no toilet paper.
11:35 am- discovered that I didn't have a size 7, 16 inch circular needle. We're continuing with size 6.
12:15 pm- tried the hat on Veronica for the first time to make sure it is even close to the right size as I didn't take the time to swatch gauge.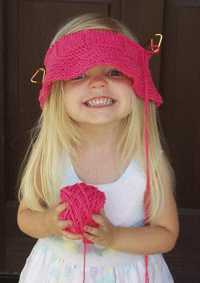 12:20 pm- resumed knitting.
12:35 pm- changed Veronica's diaper, brushed Olivia's hair.
1:30 pm- finished hat band, took picture.
2:00 pm- ran out of first skein of yarn, wound second.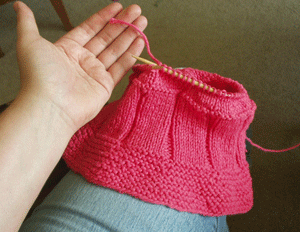 2:05 pm- joined new yarn and resumed knitting.
2:25 pm- switched to double pointed needles (closing the top).
2:28 pm- fed girls lunch.
2:45 pm- completed knitting the hat. Begin weaving in ends.
2:50 pm- ALL DONE!!!!!
3:20 pm- final photo shoot.
I think this will be the official photo I enter into the contest. Since I believe I have all day to decide, let me know if you disagree. I will include more highlights from the photo shoot in the link that follows.
I've enjoyed this wild and crazy ride. I'm glad I was able to fulfill my obligation as a knit alonger, and thanks to Becky for inspiring me!