Thursday, July 31st, 2008
More swatching
I'm still playing around with practice batts. This time, I used my gray wool, black alpaca, and pink silk noil that Heidi from the Artful Ewe gave me a couple years ago.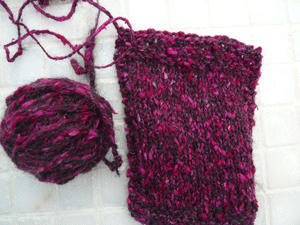 The swatch is my 2 ply, and the ball is 3 ply. I'm interested in the difference between the two once they're knit. This batt is significantly softer than the ugly orange/brown one I was working on last time. I think it's due in part to the wool, but mostly the alpaca. My black is considerably finer than my brown.
I'm really just biding my time 'til my wholesale order arrives. It's been shipped!!! I should get it in a week, and it's full of different colors of superfine alpaca, silk tops and noils, some different wools to play around with (just to see how they compare in a batt with my Romney), mohair locks (to see how they compare with what I can get locally), and I snuck in some baby camel down for me

.
I have high hopes that the superfine alpaca will make my batts deliciously soft. I'm pretty pleased with how this black and pink one is coming. Visually, it's still not what I'm going for, but with each try, I'm refining it and working it until ultimately I have my own, perfected (according to me anyway, I know it's subjective) recipe.
I have a monster headache today. I could even feel it and was aware of the pain in my sleep last night so I'm exhausted.
My elbows are getting better. I had a physical therapy appointment this morning, and the tightness and pain are moving and pinpointing. I'm hoping that I'll be substantially better in another month.