Friday, September 30th, 2005
Please don't breathe on me.
I couldn't believe my ears when I heard myself say that last night. Olivia for some reason was standing immediately over my shoulder, and breathing right into my face. Her breath smelled funny, and it was making me queasy. (Because I'm pregnant and overly scent sensitive, not because my child is foul). I felt like a bickering sibling in the back of a car…
"Don't touch me!"
"She's sitting on my side!"
"Am not, she's touching me!"
etc.
Right. At least I said please.
Well, I have a suggestion to make to the knitting pattern/magazine/model world. I appreciate the fact that it is frequently noted which of the sizes offered in the pattern is actually the one that was knit and pictured. What would be REALLY helpful is if they also included the chest circumference of the model wearing it. Don't you think? I know I'm dreaming here, but it would be really helpful if I see a sweater and really like the way it fits on the model shown to know the ratios. I am never really comfortable deciding on how much ease to allow for in a pattern. I'd like to know how much ease I'm looking at in the photo.
On the one hand, being the big girl that I am, I need a sweater that isn't going to cling to the undesirable bits. On the other hand, being the big girl that I am, if I make it TOO big, I'll look like one of these. I do have attributes. I like to accentuate them. (And my internet shy neighbor can TOTALLY shut up right now).
I guess what I should do (duh), is measure a sweater I like the fit of. That just isn't as real to me for some reason. Because with different stitch patterns, and different yarns that drape differently, or that are a different thickness, everything changes.
What is inspiring these reflections? Well, I've been flipping through magazines recently, as you know, looking for inspiration for another Lopi cardigan. As it happens, a sweater caught my eye. Repeatedly.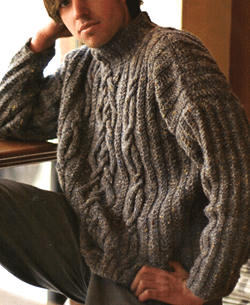 and here's the shot that will make my mom call and say she NEEDS one…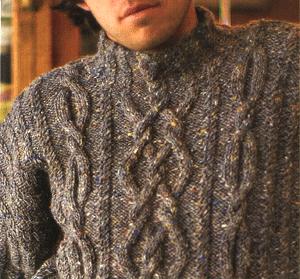 It is Rhapsody in Tweed from the Fall 04 issue of Interweave Knits.
Positives-
The cables and the tweed are luscious.
The yarn used in the pattern is Donegal Tweed by Tahki, which I have already worked with, worn, and adore.
Negatives-
I remain convinced that I'd look like an elephant in a bulky, dropped shoulder sweater designed for a man.
So, I was thinking about knitting the Bed and Breakfast sweater (Winter 03 Interweave Knits) which I've always liked, in Donegal to get the same effect. Both sweaters were designed by Kathy Zimmerman, and the B&B has a modified dropped shoulder. But, I was still drawn to the first sweater. So then I thought about trying to morph it into the Big Sack sweater from S&B. I've always wanted to make that one, too. But the gauge is totally different. Then I turned to the grooviest book ever, The Knitter's Handy Book of Sweater Patterns. They have a raglan pattern and schematic. So, I want to combine the cables/stitch pattern from Rhapsody, the neck style of Big Sack, and go by the pattern in the Handy Book of Sweater Patterns. The fact that I have to come up with about $100 for the yarn is irrelevant at this point. Plotting to take over the world (in knitter's terms) is free.
Now back to the issue of deciding which size to knit…
I'm probably going to have to measure a sweater I already own and hope for the best. And this will only get easier with experience because we all know that no model is going to be forthcoming with their bust size. Plus, if we really knew how freak skinny they all were, we'd probably throw in the towel and find ourselves a nice, comfortable circus tent.