Tuesday, February 28th, 2006
Sweeeeeeeeeet!
Yesterday, Veronica and I went to a local yarn shop to get some more Tahki Cotton Classic to make another cute, ruffly, baby hat for yet another friend of mine expecting a girl. Then, thinking that I need to knit a hat for my own baby while I'm about it, I went to Village Yarn and Tea to get some Koigu. While there, my eyes happened to rest upon their enormous stash of this.
Before I go any further, I am a moron, and have packed the book (Knits from the Heart) with the ruffly baby hat pattern in it. If any of you that happen to have the book wouldn't mind typing up and emailing the pattern for the preemie size, along with needle sizes to me, I'd REALLY appreciate it! She's due in a week.
Alright, getting back to it, while sitting and taking a breather by the Koigu at Village Yarn, I saw Stork, by Dale of Norway. Why did I notice it, aside from it being about eye level at the time? Well, they had an ample supply of red, yellow, and blue.
I had all but given up finding any decent yarn to make a Superman blanket for my babe. After months of frustration, I had, without actually consciously admitting it, written the blanket off.
"And behold, the heavens parted and lo, the yarn descended, bathed in shining light….."
Well, almost.
Anyway, here is the bleached out, rainy day photo of the swatch…
the 7+ inches or so of the blanket…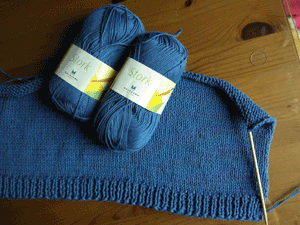 and the stash…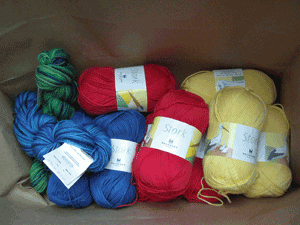 I know I was going to do a red and yellow "cape" blanket, but in this yarn, the blue looked fantastic, so I changed my plans. Also, I had no idea how much of each color to get, and I can already tell I guessed wrong, so I'm going to need to get more blue, and probably return some red and yellow.
Nate has been a peach, and has spent a phenomenal amount of time working up a new, charted Superman shield for me on the computer. This one is 99 stitches wide. He's also adjusted the graph on the computer to the ratios of my stitches, (11×15 over a 2 inch square), instead of the square graph paper I'm used to dealing with, so my finished proportions should be more accurate.
Yay!
We're still playing with it.