Wednesday, October 31st, 2007
Halloween-ed out
Halloween is my least favorite holiday. It's totally pointless, beyond providing the kids a good time and bonuses for the CEO's of candy companies. And that's all fine, for ONE day, but Halloween always manages to stretch itself out over about 5. By the time it's actually Halloween, I'M SO SICK OF IT! And here we are. The school and evening festivities in front of me, and I'd rather spend the day in bed. Of course, I don't feel well, which contributes. But really, Halloween is pretty lame as far as holidays go.
That being said, here are some pictures of the pumpkin carving party Nate hosted Monday night.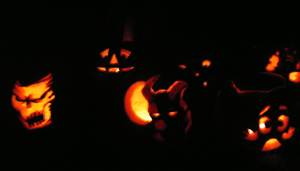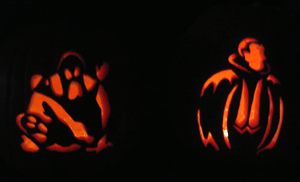 There were about 20 pumpkins in all, spread out among 15 families. I've been a scrooge the past three years of this event and haven't carved one myself, but the girls carved their own this year and there wasn't any blood! A definite success in my book.
I finished the Esther hat for my friend Lisa.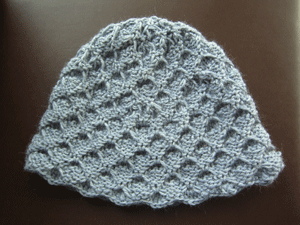 It's such a pretty pattern. I hope she likes it. I knit this one out of Cascade 220, and as far as I can recall, it's my first time using this yarn. It was fine to knit with, and it's nice and soft for straight wool, but incredibly splitty on the crocheted edging.