Saturday, March 27th, 2010
Yay! I'm in!
I'm in! I'm in! I'm in! I'm in! I'm in! I'm in! I'm in! I'm in! I'm in!
I registered for THE class I wanted SO bad! Remember a couple years ago when I bought The Shepherd's Rug at the Black Sheep Gathering? Well, at Black Sheep this year, one of the authors is teaching a class on rug braiding with wool roving. I'm really excited. I've carded a batt, divided it into three strips and braided it.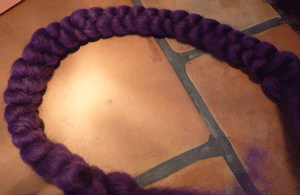 I think it turned out pretty cool.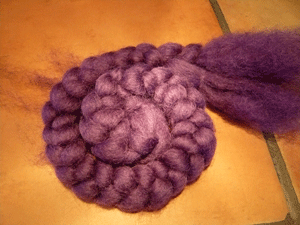 I wonder if I can do a whole rug that way?